Teenager's Be Confident Out & About Pack
We know how important it is to feel confident and happy when you are out & about.
What's in the pack?:
Weighted Hoody: Available in 3 sizes suitable for teenagers and adults. (See size guide below). The weights can be removed to suit the user and are fully washable as is the hoody.
Ear Defenders: Fully adjustable, light weight, fold away design and available in a choice of high gloss colours (select using dropdown)
Chewbuddy™ Tubes - set of 2: Idea as a chew or fidget on the ends of the hoody cords.
This pack includes our very popular weighted hoody that offers all the therapeutic benefits of a weighted shoulder wrap or weighted blanket but can be worn outside or in the classroom with no-one knowing it's any different from a normal hoody.
Our fully adjustable ear defenders offer comfort for those that are sensitives to noises and our Chewbuddy™ tubes fit nicely on the hoody draw strings to offer a fidget or oral chew. 
See full descriptions below. 
Read more
Show less
Making Sensory products since 2005
FREE Delivery on orders over £45
Who would benefit from the pack?: 
This pack has been put together for teenagers and adults who need the deep pressure of weight to help provide body awareness and in turn reduce anxiety and help with concentration. The weight of the hoody offers a weight that has a 'calming and organising' effect on the body's proprioceptive system.  The hoody is a discreet way to do this whilst you walking around or at work/studying. 
Those that are sensitive to noise and certain sounds can benefit from ear defenders to reduce those unwanted sounds and provide a safe space. Our ear defenders are very popular and the feedback from our customers are that they are very comfortable even to those that are sensitive to things placed on their head and face.  (See full details below). They are also light weight and can be folded away into your bag or pocket.
Weighted Hoody Full Description:
Sensory Direct's Weighted Hoody provides a discreet weighted solution, perfect for fashion conscious teens and young people. These Weighted Hoodies are designed to provide all the therapeutic benefits of a weighted jacket in a cool, wearable style.
Recommended by Occupational Therapists to help those with poor body awareness, the weight is often found to reduce anxiety and aid focus and concentration. The deep pressure provided has a 'calming and organising' effect on the body's proprioceptive system.
The inner lining of our Hoodies contains a total of seven pockets which are strategically placed for the insertion of weights - discreetly located on the shoulders, around the waist and in the hood. All weights are removable for easy washing.
We are passionate about the quality of our products and the hoodies are no exception - made from high quality material in a fashionable design so they do not stand out as a therapeutic aid.
Sizes:
Adult Small - Chest 38"/96cm, Body length 60cm, Sleeve 58cm, Weights included 2.8kg
Adult Medium/Large - Chest 44"/112cm, Body length 66cm, Sleeve 62cm, Weights included 3.3kg
Adult L/XL - Chest 50"/125cm / Body length 72cm / Sleeve 64cm, Weights included 3.5kg
Click here to view a video on weighted jackets.
Therapeutic benefits and wearable style
Recommended by Occupational Therapists 
Can reduce anxiety and aid focus and concentration
Removable weights for easy washing
Made from high quality material
Weighted Hoody Sizes:
Jacket Size

Chest as per Brochure (inches)

Measured

(inches)

Length

Sleeve

Small/Med Child (XS)

27"

28"

18"

15.5"

Med/Large Child (S)

33"

34"

21"

17.5"

XL Child/Small Adult (M)

38"

40"

24"

19"

Med/Large Adult (L)

43"

46"

27"

20"

Large/XL Adult (XL)

48"

50"

29"

21"
Hoody Weights:
Size (ref)

Shoulder Weights

Waist Weights

Head Weight

Total Weight (including jacket)

Child  XS/S

(1)

2 x 250g

4 x 250g

1 x 250g

2.2kg

Child  M/L

(2)

4 x 250g

4 x 330g

1 x 250g

2.8kg

Child XL/Adult S

(3)

2 x 460g

4 x 400g

1 x 250g

3.5kg

Adult  M/L

(4)

2 x 460g

4 x 500g

1 x 340g

4.0kg

Adult L/XL

(5)

2 x 460g

4 x 550g

1 x 340g

4.4kg
Ear Defender Fully Description:
Sensory Direct's Ear Defenders are great for children and young adults with Autism and Sensory Processing issues who are sensitive to noise and certain sounds.
Maybe your child finds the sound of traffic or hand dryers too loud or they find the sounds at their social events just too much to cope with. Our ear defenders reduce the sounds of the world and help provide a safe space for the wearer. 
They come in six different colours with high gloss finish,
Are lightweight and easy to use (0.2kg)
Fold away into a compact size to fit in your bag or pocket,
Adjustable for the perfect fit,
Padded headband and cushion,
Fit from 12 months to adult,
CE Approved and compliant with EN352-1, SNR 27dB, ANSI NRR 21dB
Feedback from our customers are that they are very comfortable and even those who are sensitive to things placed on their head and face could cope with them. 
Approximate Product Dimensions:
(H) 10 cm s (W) 12 cm (folded)
(H) 17 cm x (W) 13 cm (opened)
Chewbuddy™ Tube Full Description:
Sensory Direct's multi functional Chewbuddy™ Tubes are made from medical grade, latex free material. They are ideal for early learners, individuals with fine motor difficulties and those with arthritic conditions.
Can be used as:
a chewy pencil topper for those that like to chew and mouth pencils and pens
a pencil grip to help handwriting and pen control
hoody toggles for those that chew clothes and cords
a chewy necklace when put on a safety cord or lanyard
Fits all standard pens and pencils. - helps boost concentration and focus.
They are made of durable rubber and can withstand being moved from pencil to pencil.
A set of 2 Tubes are included in each pack:
1x smooth
1 x tactile nodules for sensory feedback.
Tube Measurements:
Length: 5.5cm
Width: 2cm
Weight: 14g
This product is eligible for VAT relief and can be purchased free from VAT.
Who can claim for VAT relief?
If you have a disability or a chronic medical condition you can claim VAT relief on certain eligible products provided the goods are purchased for personal or domestic use.
If you are a parent or carer you can claim VAT relief on behalf of a child or person you look after.
At checkout you will be asked whether you are eligible for VAT relief. If you qualify tick the "Yes" option and complete the declaration form. VAT will automatically be deducted from the relevant items in your basket.
Charities can qualify for VAT relief where these conditions are met.
VAT relief is not available on all products. Eligible products are marked with a green badge on the product page.
VAT is chargeable on delivery.
Delivery
Products that are in stock and ordered before 2pm, Monday to Friday, will be despatched on the same working day.
Sensory Direct's Weighted Blankets, Lap Pads, Weighted Jackets and other handmade products may take 3-4 working days to be despatched if not in stock. We will endeavour to contact customers whose orders may be affected by any despatch delays.
Please note that we close our warehouse & sales office over all UK Bank Holidays & Christmas Eve through to New Year. Despatch will not take place during this time.
You can check the status of your order at any time by logging into your customer account via our website. A Customer Account will need to be created before placing an order, to use the order tracking service. Please read our 'How do I place an order' FAQ for information on how to do this.
Delivery is FREE on orders of £45 and above within Mainland UK (excluding Highlands, Offshore Islands & Northern Ireland).
Mainland UK delivery charges are £2.95/£3.95 Royal Mail and £5.95 for courier delivery for orders under £45. (see FAQ for further courier delivery times)
Small items are sent by Royal Mail Recorded Delivery. Larger items are sent by DPD for next day delivery. For smaller items that are in stock and ordered before the 2pm cut off time, you can now select and pay for DPD next day delivery at the checkout stage.
Please note we cannot deliver to a PO Box address.
We are currently unable to ship overseas unless you hold a trade account with us.
Our despatch team will arrange for all orders before 2pm to be despatched on the same day from our warehouse to our designated courier service. Please note that the estimated delivery times are provided by the courier and we do not have any control or influence over these. (see FAQ for further courier delivery times). We will do our best to deliver your order on time however delivery times are approximate, and we accept no liability in respect of late deliveries. If your order is required urgently or by a certain date, please email info@sensorydirect.com and we will do what we can to meet your deadline.
On receipt of your order please open all packages and thoroughly check the goods for damage as soon as possible. You must notify Sensory Direct of any damage within 3 days of the delivery. If we are not notified of damage within 3 days we are unable to claim from the carrier and we will be unable to refund or replace the damaged items. If the packaging appears damaged and you do not have time to check the goods you should sign the carriers paperwork and add the word "Damaged".
Non receipt of your order must be notified to Sensory Direct within 7 days of receipt of your order acknowledgement.
Please see our FAQs for further inforamtion or email us on info@sensorydirect.com or call us M-F 0900 - 1700 on 01905 670500
Returns:
We want you to be 100% happy with your purchase, but if you find that the product is not suitable you must return the goods to us within 30 days of receipt for a refund or exchange of the same or similar. There are some exemptions to this, please see below with regards to Sensory Direct Weighted Blankets. Returns of a sales item must be within 14 days of receipt.
To receive a refund or exchange, goods must be returned unused, in their original packaging and with all original documentation. It is not possible for us to make a refund or exchange if the goods returned are not in perfect condition or it is obvious to us that the goods have been used. Refunds for goods which are returned used, in an unsaleable condition or after 30 days will be at the discretion of Sensory Direct (UK) Ltd.
Is there anything that cannot be returned?:
Yes. We have a small number of products that due to hygiene reasons are not eligible for returns if any of their packaging has been opened. These are:
All Chewbuddy™ products & all other branded sensory chews and bangles.
All Putty*/ Sand/ Clay/ PlayFoam (*unless the inner protective bag remains unopened)
High Fidelity Ear Plugs and Ear Defenders (Silicone Sensory Ear Plugs are non-returnable due to the nature of their packaging)
Sensory Direct's Weighted Blankets:
Blankets that have been opened and used will be subject to a £40 fee (+vat where applicable) which will be deducted from your refund. Refunds cannot be given for weighted blankets after 60 days from the date of receipt or where they are returned dirty, soiled or damaged. Refunds on weighted blankets are at the discretion of Sensory Direct and we reserve the right to refuse refunds.
Our Weighted Blankets and Lap Pads carry a 'Lifetime Guarantee'. If your Weighted Blanket or Lap Pad develops a fault, please call our friendly Customer Services Team on 01905 670 500, 09:00 – 17:00, Monday to Friday and they will happily arrange a repair or replacement.
Trade customers:
Goods purchased by trade customers and distributors may not be returned unless the goods are faulty or sent in error.
Returns Process:
Please ensure you complete a RETURNS FORM with your Purchase Order Reference ( e.g. SO048123 - you will find this on your paperwork or through our Sales office) when sending back your goods . You will find the Returns Form with your order. Please email info@sensorydirect.com if you need a replacement form or cannot find your reference number. Without a completed returns form it is likely to delay your refund.
Faulty Products:
Please contact our service team either by phone on 01905 670500 or by emailing info@sensorydirect.com where we can advice you on our process.
What is the cost of returning a product?:
Unless the goods are faulty or sent in error you are responsible for the cost of returning the goods to us. We recommend you use recorded delivery and obtain insurance, as proof of posting is not proof of receipt. Where goods are not faulty or sent in error only the cost of the goods excluding postage & packing will be refunded. For further information, please contact our sales office for further advise.
Shortages & Non receipt
Shortages and breakages must be reported to Sensory Direct within 3 days of receiving your order. Non receipt of an order must be reported to Sensory Direct within 7 days of notification of despatch.
Please see full T&Cs
Use our FAQs for further information.
Postal Address: Sensory Direct (UK) Ltd, Unit 11 Great Western Business Park, McKenzie Way, Worcester. WR4 9GN
Contact Number: 01905 670500
Email: info@sensorydirect.com
Working hours: M-F 0900 – 17:00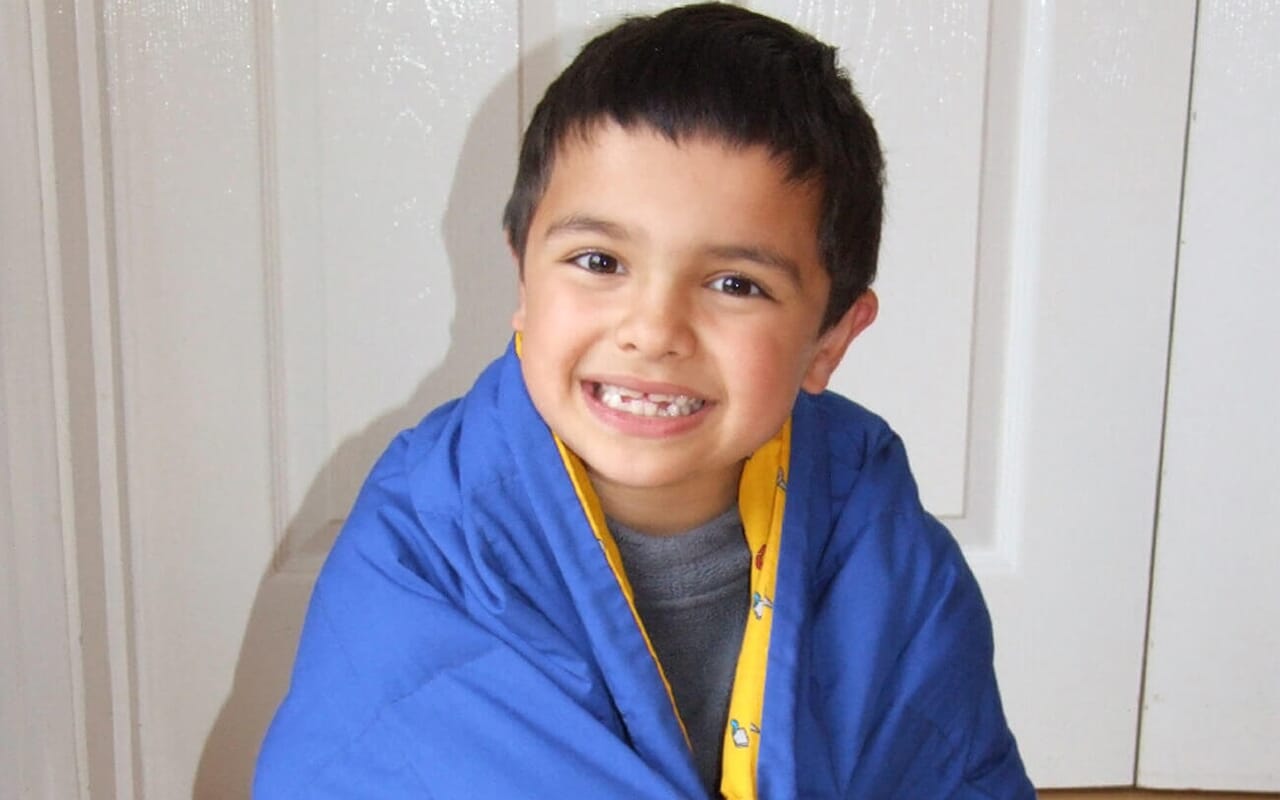 Our Story
When my son was born with autism, my world changed & Sensory Direct was born
Ethan had been prescribed different forms of medication, and although they helped a little, I didn't want to become reliant upon them, so Ethan's Paediatric Consultant suggested a Weighted Blanket. I remember hearing this and thinking 'what on earth is a Weighted Blanket'? At this stage I was blissfully unaware of how life changing that Weighted Blanket would become.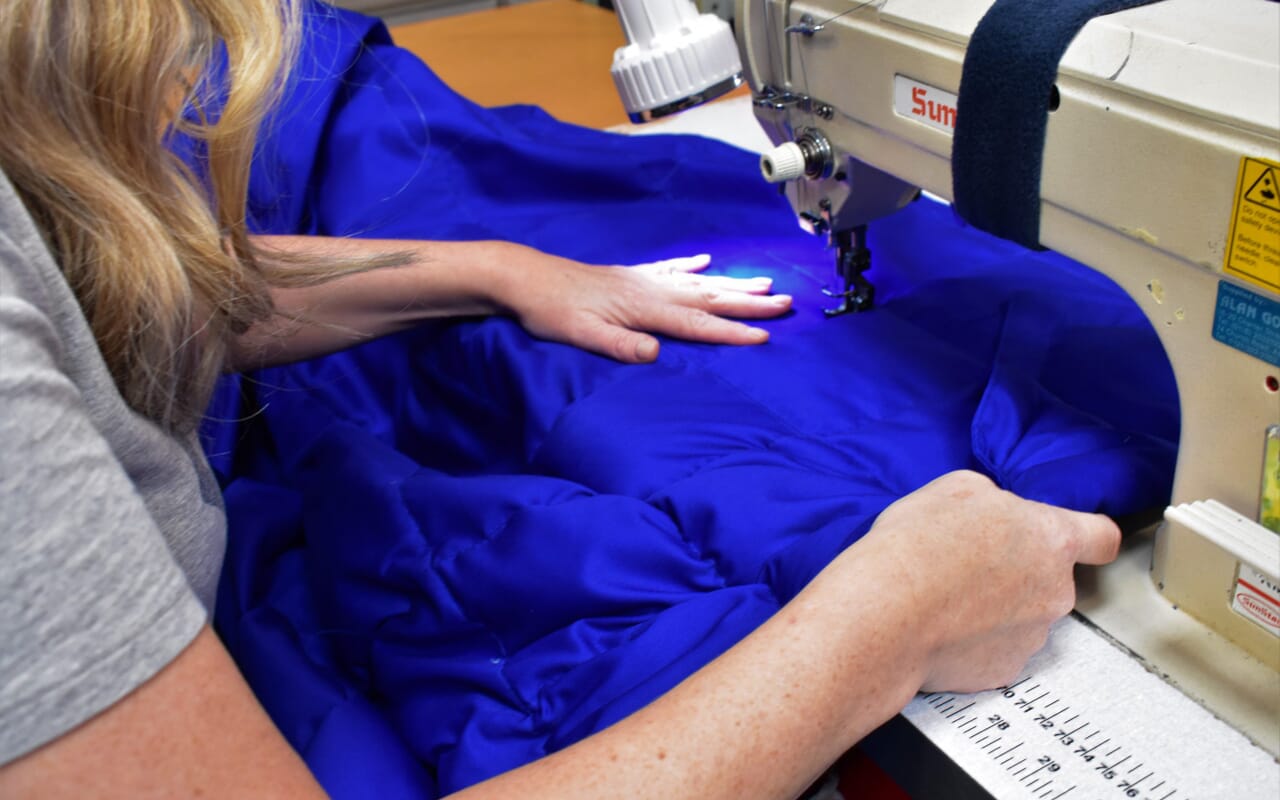 British Born Solutions
Sensory Direct's principle drive and values are based on wanting to help and support others find their solution.
We strongly believe in our products and ensure that the same love and care that went into making my son's first Weighted Blanket goes into every handmade product we produce here in Worcester. We pride ourselves on our Customer Service and we will do our utmost to find you a solution that works.