Weighted Compression Vest-XXS-Blue
Hook and loop closures on the sides allow for maximum comfort, easy sizing, and quick removal
Machine washable (cold wash) when weights are removed
Additional weighted available
Read more
Show less
Making Sensory products since 2005
Delivery £5.95 max for mainland UK
The results were unbelievable!

"The school had already purchased a weighted waistcoat for my son as advised by the OT, the results were unbelievable - used when he has 1:1 reading his concentration has improved and in turn he reads better and for longer. Therefore, I have purchased this one to use at home when reading/writing etc. There are cheaper alternatives on the market but unsure myself whether the different weight distribution would affect its effectiveness I wasn't prepared to take a chance. He has sensory issues and thankfully he likes fleece so he likes wearing it - other things we have tried in general he has rejected either because of texture or not wanting to be different to his peers, as the appearance is similar to "normal" clothing he has no issues. It is definitely a hit!"

Tara Broad - Mum to son with sensory issues.

Read more Show less
Weighted deep pressure vest is made to calm and provide steady proprioceptive input.
The combined pressure and weight functions as a reassuring deep hug.
Made of neoprene, the vests are designed for comfort with soft mesh material on the sides to increase air flow and ventilation.
The stretchy neoprene provides soothing proprioceptive input and compression around the body, helping to calm and promote self regualtion. The weight provide additional senory input for those that need it. This vest is a good middle ground coming somewhere between our weighted jacket and deep pressure vest. Its lighter than the weighted jackets and does not give as much compression as the deep pressure vest, but falls nicely in between with a combination of the weighted and deep pressure.
Provides proprioceptive feedback to help focus and self-regulate
Hug-like compression encourages calm and feeling of security
Supports kids and adults with ADHD, sensory integration disorder or autism
Age 18 months - Adult
Weights are safely positioned in pockets inside the vest and can be added or removed. (Machine washable on cold wash when weights are removed).
Most sizes include two 1/2 lb. weights and four 1/4 lb. weights for a total of 2 lbs (approx 1kg). XX-Small includes four 1/4 lb. weights for a total of 1 lb (approx 0.5kg).
Remove weights before washing
Additional weights available HERE.
Safety
Weighted jackets should only be used with the direction and advice of your occupational therapist or other suitably qualified person.
It is recommended that the jacket weight does not exceed 5% of the users's bodyweight unless recommended otherwise by your Occupational Therapist. Remove some of the waist weights if necessary but ensure weights are evenly distributed across the jacket.
Use under supervision at all times
Ensure that the jacket weight is appropriate for the user
Do not use in conjunction with other weighted products
Do not sleep in a weighted jacket
Check for signs of wear & tear before and after use
This product is eligible for VAT relief and can be purchased free from VAT.
Who can claim for VAT relief?
If you have a disability or a chronic medical condition you can claim VAT relief on certain eligible products provided the goods are purchased for personal or domestic use.
If you are a parent or carer you can claim VAT relief on behalf of a child or person you look after.
At checkout you will be asked whether you are eligible for VAT relief. If you qualify tick the "Yes" option and complete the declaration form. VAT will automatically be deducted from the relevant items in your basket.
Charities can qualify for VAT relief where these conditions are met.
VAT relief is not available on all products. Eligible products are marked with a green badge on the product page.
VAT is chargeable on delivery.
Delivery:
Products that are in stock and ordered before 11am, Monday to Friday, will be despatched the same working day. Weighted Blankets, Lap Pads, Weighted Jackets and other handmade products may take 2-3 working days to be despatched, if not in stock. You can check the status of your order at any time by logging into your customer account via our website. A Customer Account will need to be created before placing an order, to use the order tracking service. Please read our 'How do I place an order' FAQ for information on how to do this.
Small items are sent by Royal Mail Recorded Delivery. Larger items are sent by DPD for next day delivery.
Mainland UK delivery is charges are £2.95/£3.95 Royal Mail and £5.95 for courier delivery.
Non mainland UK and Overseas delivery charges vary depending on your location and size of order.
Shipping is free on online orders over £300.00 (mainland UK)
Please note we cannot deliver to a PO box address
We will do our best to deliver your order on time however delivery times are approximate and we accept no liability in respect of late deliveries. If your order is required urgently or by a certain date, please email info@sensorydirect.com and we will do what we can to meet your deadline.
On receipt of your order please open all packages and thoroughly check the goods for damage as soon as possible. You must notify Sensory Direct of any damage within 3 days of the delivery. If we are not notified of damage within 3 days we are unable to claim from the carrier and we will be unable to refund or replace the damaged items. If the packaging appears damaged and you do not have time to check the goods you should sign the carriers paperwork and add the word "Damaged".
Non receipt of your order must be notified to Sensory Direct within 7 days of receipt of your order acknowledgement.
Returns:
We want you to be completely happy with the goods you have purchased from Sensory Direct.
If you are not 100% satisfied with the goods you have purchased you may return them within 30 days of receipt for a refund or exchange. To receive a refund or exchange, goods must be returned unused, in their original packaging and with all original documentation.
Sensory Chews / Chewbuddy's - cannot be refunded where the packaging has been opened.
Weighted Blankets – if a Weighted Blanket has been used a fee of £40 (+ VAT where appropriate) will be deducted from your refund. If you are unsure whether a Weighted Blanket will work for you, we recommend you first try one through our Weighted Blanket Hire Scheme.
Our Weighted Blankets and Lap Pads carry a 'Lifetime Guarantee'. If your Weighted Blanket or Lap Pad develops a fault, please call our friendly Customer Services Team on 01905 670 500, 09:00 – 17:00, Monday to Friday and they will happily arrange a repair or replacement.
Refunds for goods which are returned used, in an unsaleable condition or after 30 days will be at the discretion of Sensory Direct (UK) Ltd.
Goods purchased by trade customers and distributors may not be returned unless the goods are faulty or sent in error.
Please ensure you complete a RETURNS FORM when sending back your goods - this is sent with your order. Please email sales@sensorydirect.com if you need a replacement. Without a completed form your refund may be delayed.
Unless the goods are faulty or sent in error you are responsible for the cost of returning the goods to us. We recommend you use recorded delivery and obtain insurance, as proof of posting is not proof of receipt. Where goods are not faulty or sent in error only the cost of the goods excluding postage & packing will be refunded.
Shortages & Non receipt
Shortages and breakages must be reported to Sensory Direct within 3 days of receiving your order. Non receipt of an order must be reported to Sensory Direct within 7 days of notification of despatch.
Please see full T&Cs here.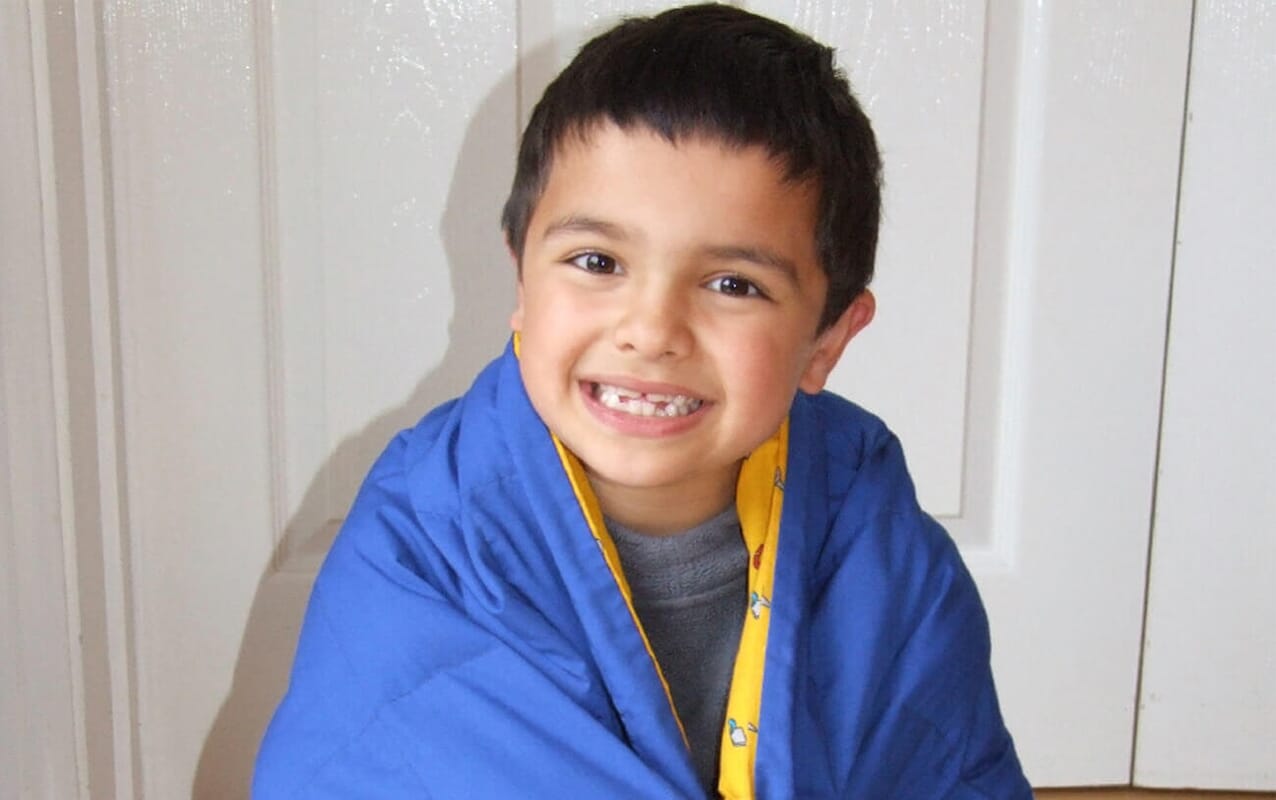 Our Story
When my son was born with autism, my world changed & Sensory Direct was born
Ethan had been prescribed different forms of medication, and although they helped a little, I didn't want to become reliant upon them, so Ethan's Paediatric Consultant suggested a Weighted Blanket. I remember hearing this and thinking 'what on earth is a Weighted Blanket'? At this stage I was blissfully unaware of how life changing that Weighted Blanket would become.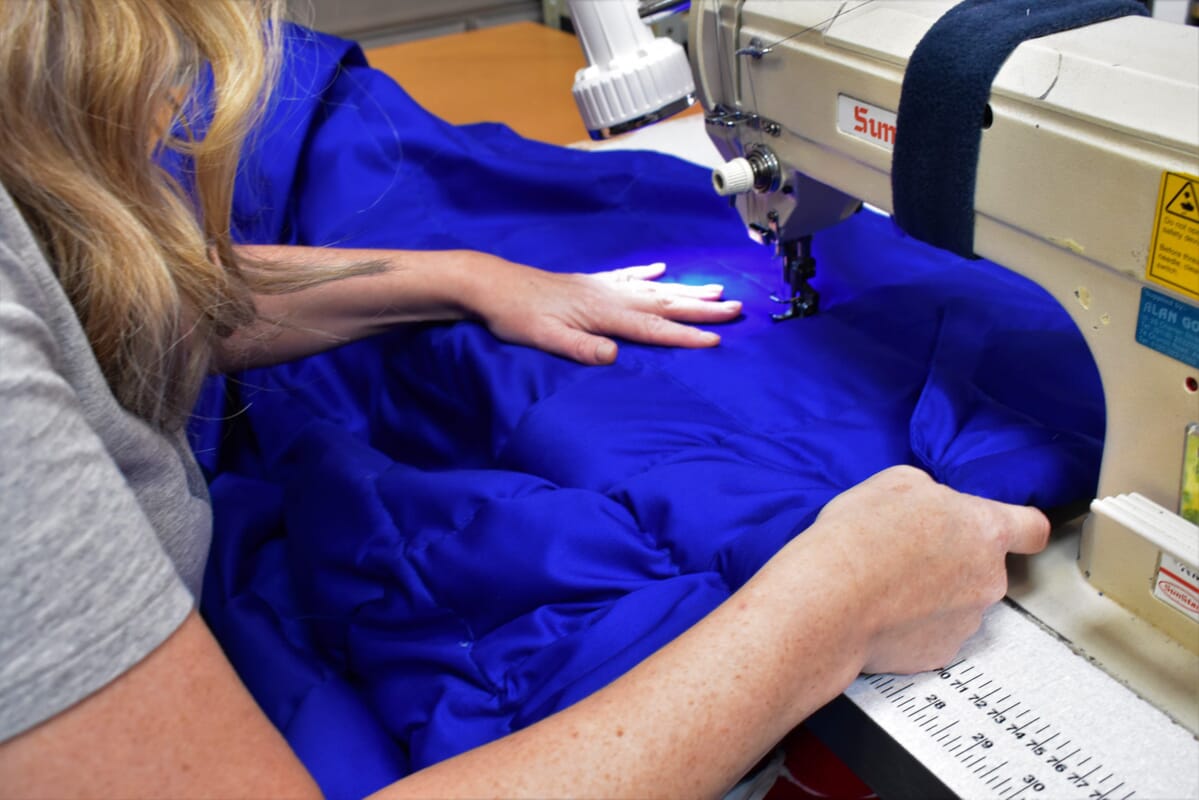 British Born Solutions
Sensory Direct's principle drive and values are based on wanting to help and support others find their solution.
We strongly believe in our products and ensure that the same love and care that went into making my son's first Weighted Blanket goes into every handmade product we produce here in Worcester. We pride ourselves on our Customer Service and we will do our utmost to find you a solution that works.