Builder's Helmet - 20% OFF SALE!!
Builder's Helmet
Allow mini builders to get ready for the construction site with our bright yellow kids hard hat. Ideal as a fancy dress costume or for interactive, imaginative play sessions, it comes emblazoned with a special 'builder' sticker (so everyone knows who's boss at the building site).
Suitable for little rascals aged 3 years +, this attractive builder's helmet keeps heads safe as they embark on their own construction adventures.
Builders Helmet - product features:
Yellow kids hard hat with 'Builder' sticker
Made from high quality, robust plastic
Ideal as a fancy dress costume
Encourages imaginative role play
11.8cm H x 25.8cm W
3 years +
Read more
Show less
Making Sensory products since 2005
FREE Delivery on orders over £45
Builders Helmet - product features:
Yellow kids hard hat with 'Builder' sticker
Made from high quality, robust plastic
Ideal as a fancy dress costume
Encourages imaginative role play
11.8cm H x 25.8cm W
3 years +
Delivery
Products that are in stock and ordered before 2pm, Monday to Friday, will be despatched on the same working day.
Sensory Direct's Weighted Blankets, Lap Pads, Weighted Jackets and other handmade products may take 3-4 working days to be despatched if not in stock. We will endeavour to contact customers whose orders may be affected by any despatch delays.
Please note that we close our warehouse & sales office over all UK Bank Holidays & Christmas Eve through to New Year. Despatch will not take place during this time.
You can check the status of your order at any time by logging into your customer account via our website. A Customer Account will need to be created before placing an order, to use the order tracking service. Please read our 'How do I place an order' FAQ for information on how to do this.
Delivery is FREE on orders of £45 and above within Mainland UK (excluding Highlands, Offshore Islands & Northern Ireland).
Mainland UK delivery charges are £2.95/£3.95 Royal Mail and £5.95 for courier delivery for orders under £45. (see FAQ for further courier delivery times)
Small items are sent by Royal Mail Recorded Delivery. Larger items are sent by DPD for next day delivery. For smaller items that are in stock and ordered before the 2pm cut off time, you can now select and pay for DPD next day delivery at the checkout stage.
Please note we cannot deliver to a PO Box address.
We are currently unable to ship overseas unless you hold a trade account with us.
Our despatch team will arrange for all orders before 2pm to be despatched on the same day from our warehouse to our designated courier service. Please note that the estimated delivery times are provided by the courier and we do not have any control or influence over these. (see FAQ for further courier delivery times). We will do our best to deliver your order on time however delivery times are approximate, and we accept no liability in respect of late deliveries. If your order is required urgently or by a certain date, please email info@sensorydirect.com and we will do what we can to meet your deadline.
On receipt of your order please open all packages and thoroughly check the goods for damage as soon as possible. You must notify Sensory Direct of any damage within 3 days of the delivery. If we are not notified of damage within 3 days we are unable to claim from the carrier and we will be unable to refund or replace the damaged items. If the packaging appears damaged and you do not have time to check the goods you should sign the carriers paperwork and add the word "Damaged".
Non receipt of your order must be notified to Sensory Direct within 7 days of receipt of your order acknowledgement.
Please see our FAQs for further inforamtion or email us on info@sensorydirect.com or call us M-F 0900 - 1700 on 01905 670500
Returns:
We want you to be 100% happy with your purchase, but if you find that the product is not suitable you must return the goods to us within 30 days of receipt for a refund or exchange of the same or similar. There are some exemptions to this, please see below with regards to Sensory Direct Weighted Blankets. Returns of a sales item must be within 14 days of receipt.
To receive a refund or exchange, goods must be returned unused, in their original packaging and with all original documentation. It is not possible for us to make a refund or exchange if the goods returned are not in perfect condition or it is obvious to us that the goods have been used. Refunds for goods which are returned used, in an unsaleable condition or after 30 days will be at the discretion of Sensory Direct (UK) Ltd.
Is there anything that cannot be returned?:
Yes. We have a small number of products that due to hygiene reasons are not eligible for returns if any of their packaging has been opened. These are:
All Chewbuddy™ products & all other branded sensory chews and bangles.
All Putty*/ Sand/ Clay/ PlayFoam (*unless the inner protective bag remains unopened)
High Fidelity Ear Plugs and Ear Defenders (Silicone Sensory Ear Plugs are non-returnable due to the nature of their packaging)
Sensory Direct's Weighted Blankets:
Blankets that have been opened and used will be subject to a £40 fee (+vat where applicable) which will be deducted from your refund. Refunds cannot be given for weighted blankets after 60 days from the date of receipt or where they are returned dirty, soiled or damaged. Refunds on weighted blankets are at the discretion of Sensory Direct and we reserve the right to refuse refunds.
Our Weighted Blankets and Lap Pads carry a 'Lifetime Guarantee'. If your Weighted Blanket or Lap Pad develops a fault, please call our friendly Customer Services Team on 01905 670 500, 09:00 – 17:00, Monday to Friday and they will happily arrange a repair or replacement.
Trade customers:
Goods purchased by trade customers and distributors may not be returned unless the goods are faulty or sent in error.
Returns Process:
Please ensure you complete a RETURNS FORM with your Purchase Order Reference ( e.g. SO048123 - you will find this on your paperwork or through our Sales office) when sending back your goods . You will find the Returns Form with your order. Please email info@sensorydirect.com if you need a replacement form or cannot find your reference number. Without a completed returns form it is likely to delay your refund.
Faulty Products:
Please contact our service team either by phone on 01905 670500 or by emailing info@sensorydirect.com where we can advice you on our process.
What is the cost of returning a product?:
Unless the goods are faulty or sent in error you are responsible for the cost of returning the goods to us. We recommend you use recorded delivery and obtain insurance, as proof of posting is not proof of receipt. Where goods are not faulty or sent in error only the cost of the goods excluding postage & packing will be refunded. For further information, please contact our sales office for further advise.
Shortages & Non receipt
Shortages and breakages must be reported to Sensory Direct within 3 days of receiving your order. Non receipt of an order must be reported to Sensory Direct within 7 days of notification of despatch.
Please see full T&Cs
Use our FAQs for further information.
Postal Address: Sensory Direct (UK) Ltd, Unit 11 Great Western Business Park, McKenzie Way, Worcester. WR4 9GN
Contact Number: 01905 670500
Email: info@sensorydirect.com
Working hours: M-F 0900 – 17:00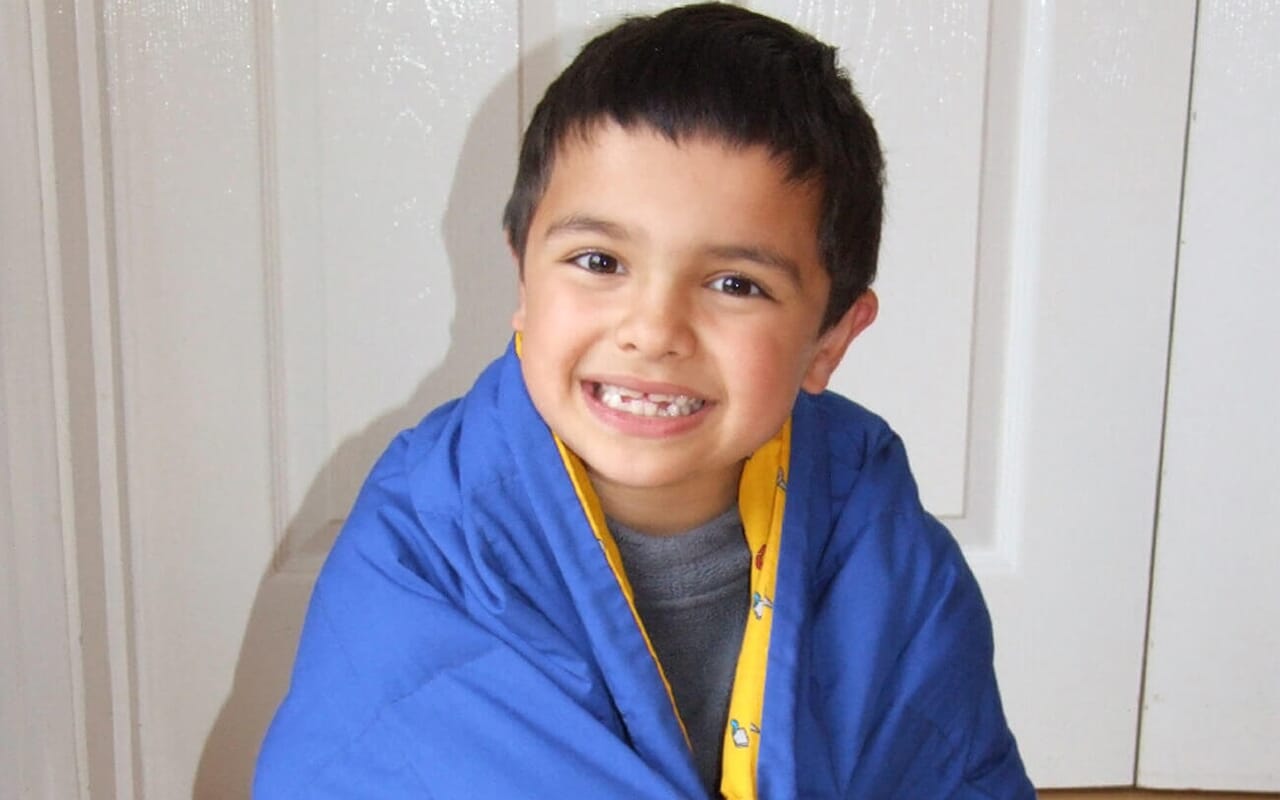 Our Story
When my son was born with autism, my world changed & Sensory Direct was born
Ethan had been prescribed different forms of medication, and although they helped a little, I didn't want to become reliant upon them, so Ethan's Paediatric Consultant suggested a Weighted Blanket. I remember hearing this and thinking 'what on earth is a Weighted Blanket'? At this stage I was blissfully unaware of how life changing that Weighted Blanket would become.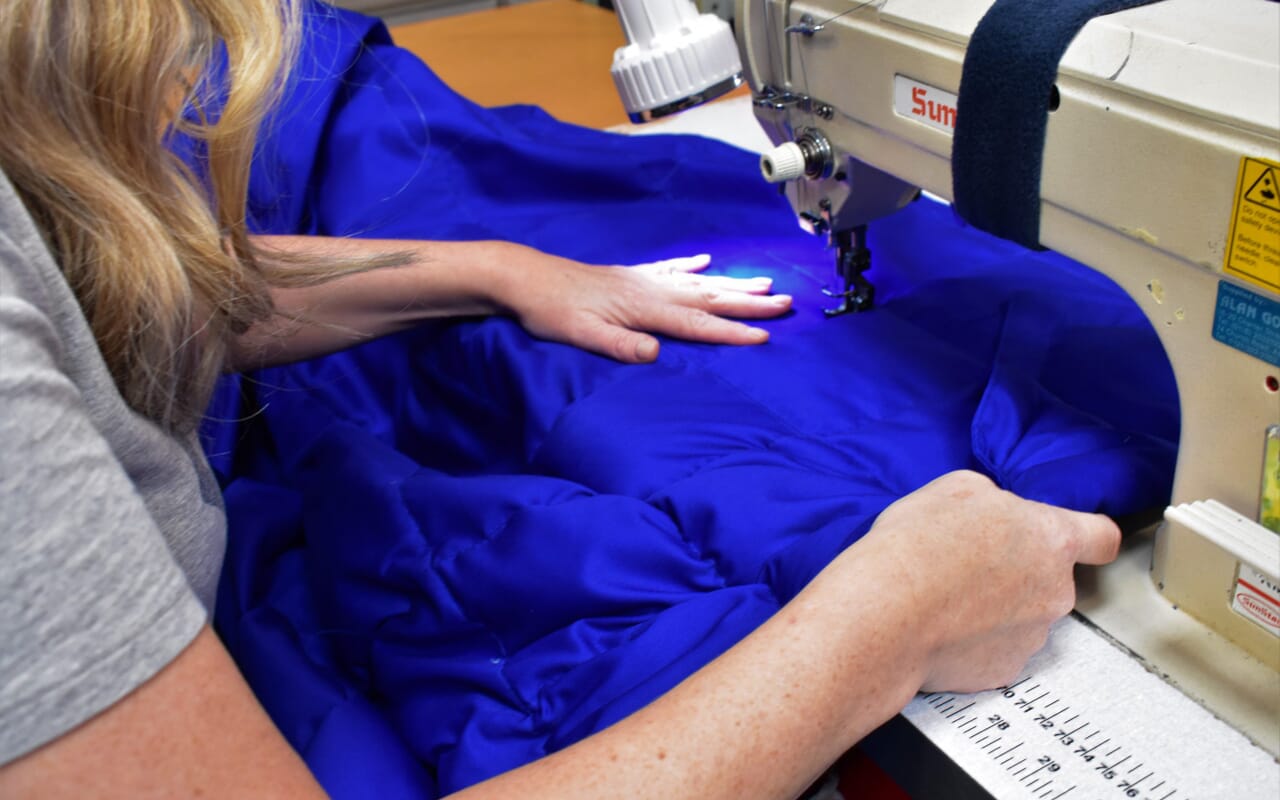 British Born Solutions
Sensory Direct's principle drive and values are based on wanting to help and support others find their solution.
We strongly believe in our products and ensure that the same love and care that went into making my son's first Weighted Blanket goes into every handmade product we produce here in Worcester. We pride ourselves on our Customer Service and we will do our utmost to find you a solution that works.